Pioneering Nations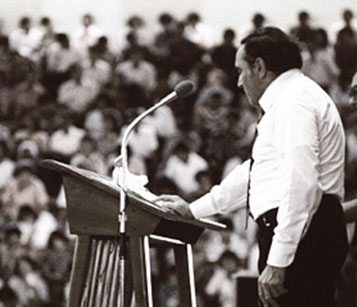 Dr. Morris Cerullo's entire life is dedicated to fulfilling the call of God to take the Gospel of Jesus Christ to every living creature.
In 1962, God said to him, "Son, build Me an army." This army is made up of Nationals trained to take the Gospel to their villages, cities, states, and nations.
In his early years of ministry he faced tremendous opposition. He was arrested and detained many times for preaching the Gospel and praying for the sick.
Dr. Cerullo first went to Argentina in 1965. The country was almost completely closed to the Gospel. During a crusade in Mar Del Plata, Argentina, there were so many miracles of healing that the College of Doctors issued a complaint accusing Dr. Cerullo of practicing medicine without a license and ordered his arrest.
He continued to minister nightly until the police met him at his hotel, arrested him and took him to jail. After intensive interrogation, he was released in time to conduct the last night of the crusade.
The impact of these early crusades spread across Argentina and was the turning point in evangelization throughout the entire nation.
Strengthening the Church
In 1962 God granted Morris Cerullo's prayer to pass on the anointing God had placed on his life, to others. He immediately began training nationals.
The purpose was to build God an army and to strengthen the Church.
Dr. Morris Cerullo, President of Morris Cerullo World Evangelism, is a man with a heart that beats for reaching souls.
In more than 70 years of ministry, most of his time has been spent in worldwide evangelism, going to the nations preaching and teaching a powerful, un-compromised message of salvation, healing, and deliverance.
Breaking Open Territory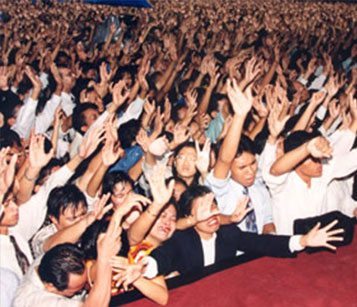 Beginning in 1999, Morris pioneered new spiritual territory in many nations considered closed to the Gospel, making spiritual history in the Middle East!
People all over the world are hungry for the Gospel.
The eleven countries were; Saudi Arabia, Oman, United Arab Emirates, Kuwait, Cyprus, Jordan, Turkey, Israel, Lebanon, Qatar and Bahrain.
In the Middle East International Conference conducted in Amman, Jordan, September 19-22, 2000. More than 2,200 delegates experienced a fiery anointing of God's Spirit. Leaders and believers from seventeen countries in the Middle East were empowered to reach their nation with the Gospel.
Fifty Years of Building God An Army